The Wall Street Journal Interactive Edition -- March 10,
1997
Junk Bonds Are Acting
As Exuberant as Stocks
By GREGORY ZUCKERMAN
Staff Reporter of THE WALL STREET JOURNAL
Don't look so smug, bond investors. Alan Greenspan was
talking to you, too.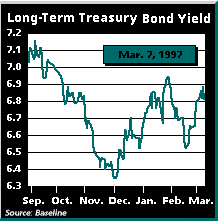 While exuberant stock investors seem to be taking a lot of
heat from the chairman of the Federal Reserve these days,
Mr. Greenspan had sharp words for the bond market as well.
In his Feb. 26 congressional testimony, the chairman noted
that an overly optimistic attitude "has become especially
evident in quality spreads on high-yield corporate bonds."
Yet, junk-bond prices remained stable following the
chairman's remarks, and even though they have shown some
subsequent weakness, they haven't fallen to the extent of
Treasury and emerging-market bonds. Money flowing into
junk-bond mutual funds slowed last week, but inflows still
grew on a net basis.
Indeed, investors in high-yield corporate bonds and junk
issues are being paid record-low premiums for the risk they
are taking when compared with a safe investment in Treasury
bonds. The historically narrow 3.25-percentage-point gap
between Treasury yields and junk-bond issues remains near
record levels. In the past four months alone, the gap has
shrunk by a full percentage point. And the spread between
corporate bonds and junk bonds is just over two percentage
points, compared with a traditional gap of three percentage
points.
Slight Unease
On Wednesday, Mr. Greenspan seemed to retreat a little from
his earlier stern warnings to stock investors, conceding
that "if profit margins continue to rise as analysts on Wall
Street expect," the market apparently is properly priced.
But he made no equivalent concessions to the high-yield
market, leaving some experts a little uneasy.
"The last time there was focus from the government on the
market was in 1990, when the talk was about laws against
junk bonds," notes Bob Kricheff, the head of high-yield
research at Credit Suisse First Boston.
Mr. Greenspan "focused specifically on high yield, and some
were surprised by that" since the Fed usually abstains from
commenting on bond prices, adds Martin Fridson, who heads
high-yield research at Merrill Lynch.
But other analysts weren't so surprised that the market
shrugged off Mr. Greenspan's warning.
"The market read his comments and glossed over them," says
Phelps Hoyt of KDP Investment Advisors in Montpelier, Vt.
"The view is that he can say what he wants to, but the
market trades on the economy's fundamentals, and if they're
strong there's no reason for spreads to widen."
What's more, analysts expect junk-bond prices to remain
stable despite the Fed chairman's remarks. For one thing,
the quality of companies issuing high-yield debt has never
been better. While bonds financing mergers and acquisitions
are on the rise, little of the new debt is being issued for
leveraged buyouts or by overleveraged companies struggling
to stay afloat, as in years past.
Better Ratings
In fact, five years ago 34% of the junk market was rated
double-B or better, but about 43% is in that upper-tier
category today. At the same time, companies rated triple-C
or below represent just 3% of the market, down from 8% at
the end of 1992. Defaults have fallen to a record-low 1.3%
of high-yield issuers from 3% just over a year ago.
The market's technical indicators also look robust. Money,
including additional funds from pension and retirement
plans, is finding its way to the market like never before,
sending issuance and inflows to all-time highs. Even if the
Federal Reserve executes an interest-rate increase, some
analysts suggest it may help rather than hurt high-yield
bonds by cooling off a strong economy and postponing the
threat of a recession, one of the worst fears for junk-bond
investors.
At the same time, the rush of foreign funds to the U.S. bond
market searching for better returns could be accelerated by
an interest-rate rise, and some of that capital inflow may
find its way to the junk market. Since junk bonds are less
interest-rate sensitive than other fixed-income instruments,
some bond and stock investors may choose to seek refuge in
high-yield bonds in the case of an interest-rate move.
Given those factors, "the spread is right where it ought to
be," Mr. Fridson says.
Grabbing for Yield
"The prices are appropriate because the economy is more
stable, and if there is a low risk of recession junk bonds
should be at low yields to Treasurys," says Willam Dudley,
director of economic research at Goldman, Sachs & Co. "If
interest rates are raised, it would be a bit of a negative
because it raises the risk of recession. But if it helps
extend the expansion, it's a healthy thing for junk bonds."
Still, junk-bond investors are clearly stretching for yield,
and there are signs of exuberance. Investors are
increasingly willing to accept higher risk by purchasing
more junior securities, though not yet to the extent of the
late 1980s. For example, there has been a surge of issuance
of a type of junk bond called "exchangeable preferred
securities," which are equity securities structured to look
like bonds and exchangeable into debt, but subordinate to
other bonds.
Mr. Greenspan's comments may be best seen as a warning of a
market top, rather than a forecast of a sudden drop in
high-yield bonds. "Spreads are at historical levels, and our
firm has a neutral to slightly negative bias so we sort of
agree with Greenspan, but it's not a big emergency," Mr.
Hoyt says.
Friday's Market Activity
After trading lower Thursday ahead of the February
employment report, Treasurys rebounded Friday, as the Labor
Department release contained little evidence that wage
pressures were building.
[Bond Yield]The benchmark 30-year Treasury bond rose 26/32
point, or $8.12 for a bond with a $1,000 face
value, ending at 97 1/2 . Its yield, which moves in the
opposite direction of its price, fell to 6.81% from 6.88%
Thursday.
Prices fell initially on news that February payrolls grew by
339,000, the largest monthly gain since May of last year.
The figure exceeded the consensus forecast of 250,000. But
the market recovered quickly because, despite the payroll
surge, average hourly earnings rose only three cents to
$12.09, a penny below forecasts.
"We haven't seen any worsening in the wage picture out of
this number," said Mary Dennis, senior market strategist at
Credit Suisse First Boston. "It didn't change anybody's
picture about the Fed."
Market attention now turns to several other monthly economic
reports, including retail sales to be released Thursday and
the producer price index on Friday.
Elsewhere, municipal bonds were quoted 1/8 to 3/8 point
higher in price, pulled along by the rally in Treasurys.
Among active issues, in Alabama, Jefferson County's 5 3/4 %
bonds due 2027 were 3/8 of a point higher at 98 7/8 to yield
5.8%.
The municipal sector is expecting several sizable offerings
this week.
The largest may be $709 million in Puerto Rico
general-obligation bonds, brought to market by a Lehman
Brothers group. Puerto Rico issues usually attract ample
buying because they bear interest exempt from federal, state
and local taxes throughout the U.S.
Also scheduled to be priced are $432 million of Alaska
Housing Finance Corp. revenue bonds by a Lehman Brothers
group and $160 million of California Housing Finance Agency
revenue bonds by a Goldman, Sachs & Co. group.
Among the day's corporate issues, Olympic Financial Ltd.
sold a $300 million junk-bond offering, while a unit of bank
holding company Riggs National Corp. priced $200 million of
30-year trust preferred securities.
In trading, Marvel Holdings Inc. debt securities gained a
point in price as they rallied on news that Ronald
Perelman's Andrews Group, which owns 80% of Marvel equity,
terminated a restructuring plan opposed by bondholders.
Marvel discount notes due 1998 were up one point at 20.
-- Ross A. Snel and Candace Cumberbatch
[Image]
Copyright © 1997 Dow Jones & Company, Inc. All Rights
Reserved.