CURRENT EVENTS
TBA
PAST EVENTS
Phi Chi Theta's 7th Annual Women's Corporate Mingle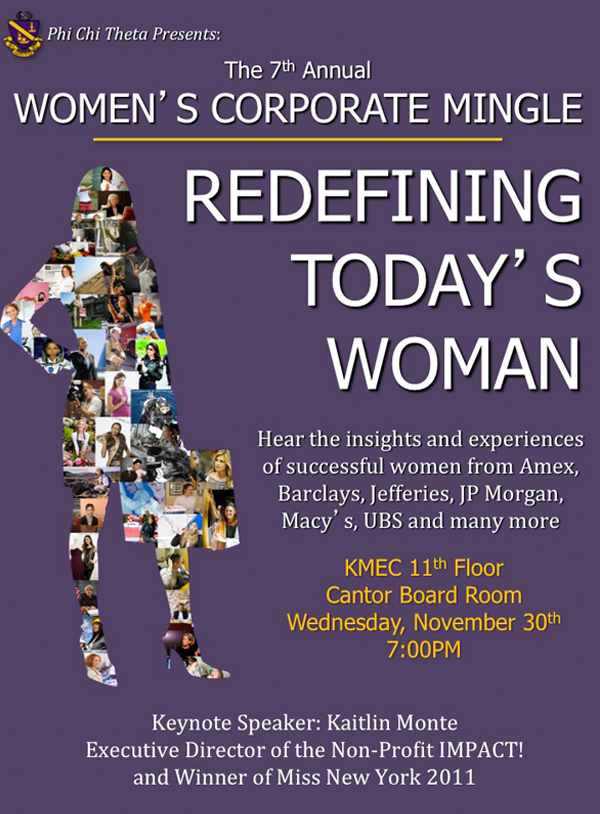 What is Women's Corporate Mingle (WCM)?
Phi Chi Theta's first Women's Corporate Mingle was held in 2005. The purpose of the mingle is to facilitate an intimate and meaningful discussion between female students and business professionals, regarding important issues women face in the professional world.
This year's WCM theme is Redefining Today's Woman. Being a woman in this day and age comes with a different set of challenges from our predecessors. Whereas in the past women were not expected to contribute to the labor force and were mostly restricted to the interiors of their own homes, the modern woman often has to choose between her family and her career. Some say that She can only achieve success in managing one. Some say that She can succeed in balancing both.
How about we stop choosing to choose, and we decide to just be. To just be a woman that you want to be, and not what people expect us to be. The modern woman has the freedom and ability to mix and match her lifestyle among the world's colorful palette of career paths, family lifestyles, social experiences, personal developments etc. It is time to redefine today's woman, and color the canvas of your soul the way you really want it to be.
&nbsp &nbsp &nbsp &nbsp &nbsp &nbsp &nbsp &nbsp &nbsp &nbsp &nbsp &nbsp &nbsp &nbsp "One is not born a woman--one becomes one."
&nbsp &nbsp &nbsp &nbsp &nbsp &nbsp &nbsp &nbsp &nbsp &nbsp &nbsp &nbsp &nbsp &nbsp Simone de Beauvoir (French existentialist philosopher)
Who Can Attend?
This is an event open to all who are interested in learning more about the development of women in and out of the workforce. All students from all majors and academic levels are welcome to attend.
How Can I Attend?
Please RSVP at:
Stern Students: CampusGroups
Non-Stern Students: Please send an email to michelle.nacario@stern.nyu.edu
What Can I Get Out of WCM?
Participants will have the opportunity to network with a diverse group of professional women.
Past professional representatives include Citigroup, Price Waterhouse Coopers, Barclays Capital, Deloitte, NBC Universal, Och-Ziff, American Express, Macy's and many more. Notable past keynote speakers include Analisa Balares, CEO and founder of WomenSphere (an online networking site for women) and Cary Broussard, entrepreneur and author of From Cinderella to CEO.
These interactions will ultimately serve as an integral mentorship platform for young women still striving to discover their own individual career paths. The discussions generated on the day of the event will also add to the overall personal development of each participant, be it speaker or student, in understanding their own unique role in today's society.
Contact Us
If you have any questions or concerns, feel free to contact us at nyu.pct@gmail.com. Click to download: PCT - 2011 WCM Information Sheet
Fall Rush 2011
Click to download:
PCT Fall 2011 Pledge Application