Addendum:

Wachtell

, Lipton, Rosen and Katz
By William H. Starbuck
What Happened?
People often ask me what happened to

Wachtell

after I completed the study in 1993. When I interviewed them in 1992-93, several of

Wachtell's

opponents had predicted that the wave of mergers and acquisitions had ended, and hence that

Wachtell

would no longer be able to achieve such extreme financial success. Many people, both inside and outside the firm, wondered how dependent

Wachtell

was on the talents and values of its founding partners.
The years 1994 and 1995 did indeed bring fewer mergers nationally and less merger work for Wachtell. But in that period, there were many corporate bankruptcies and many bank reorganizations, and Wachtell suddenly emerged as a leading US firm in these two areas of practice. Leonard Rosen, one of the founding partners, had long been recognized for his expertise in Bankruptcy and Creditors' Rights, and the firm included a small group specializing in this area of practice. When bankruptcies grew prevalent in the early 1990s, this group gained prominence and took on more business. Also, one of Wachtell's partners was widely recognized for his exceptional expertise in bank reorganization. When the 1990s brought many bank reorganizations, his specialty gained prominence and the firm took on more such business.
The decline is merger activity was short-lived, and after just a few years, Wachtell again had much M&A work. Table 1 shows the recent M&A activity by top US law firms.
Table 1. M&A Activity by US Law Firms (American Lawyer, April 1999 and April 2000;

Mergers and Acquisitions Journal, Feb. 1, 2000)

Ranked by M&A Deal Value in 1998

Ranked by Proceeds from M&A in 1999

Ranked by Number of M&A Deals from 1990 to 1999

Wachtell, Lipton

Skadden, Arps

Skadden

,

Arps

Skadden

,

Arps

Cravath

,

Swaine

Sullivan, Cromwell

Sullivan, Cromwell

Wachtell

, Lipton

Dorsey & Whitney

Shearman, Sterling

Davis Polk

Simpson

Thacher

Cleary, Gottlieb

Shearman, Sterling

Shearman,

Sterling

Davis

Polk

Simpson

Thacher

Gibson, Dunn

Simpson

Thacher

Cleary, Gottlieb

Latham & Watkins

Jones, Day

King & Spalding

Davis

Polk

Dewey

Ballantine

Weil,

Gotshal

Wachtell

, Lipton

Baker &

Botts

Sullivan, Cromwell

Wilson

Sonsini
In 1999, Wachtell continued to stand out on general performance measures. Figures 1, 2 and 3 show revenues per lawyer, profits per partner, and profit margins for the top 20 US law firms. Indeed, one could argue that Wachtell occupied a more outstanding position in 1999 than it had in 1989-90. According to Alison Frankel (2000), "In the last 10 years we've seen an increasing percentage of the highest-end (and best-paying) litigation and deal work consolidating at fewer and fewer elite firms -- all New York-based. In fact, throughout the 1990s, just 10 firms -- again, all headquartered in New York -- dominated our revenue-per-lawyer and profits-per-partner rankings. They are the Winners of the Nineties, listed here in order of their dominance: Wachtell, Lipton, Rosen & Katz; Cravath, Swaine & Moore; Sullivan & Cromwell; Davis Polk & Wardwell; Cahill, Gordon & Reindel; Simpson Thacher & Bartlett; Cleary, Gottlieb, Steen & Hamilton; Skadden, Arps, Slate, Meagher & Flom; Debevoise & Plimpton; and Shearman & Sterling."
<![if !vml]>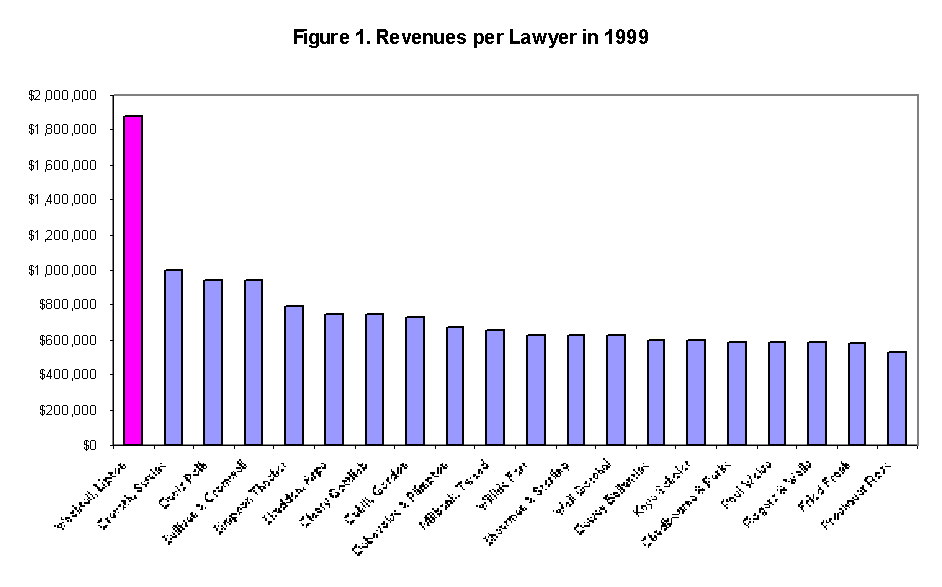 <![endif]>
<![if !vml]>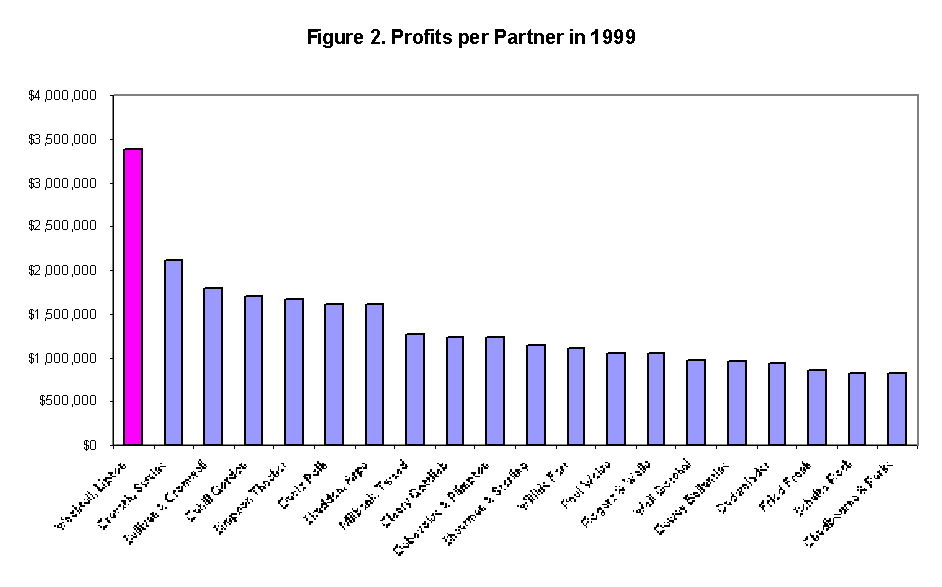 <![endif]>
<![if !vml]>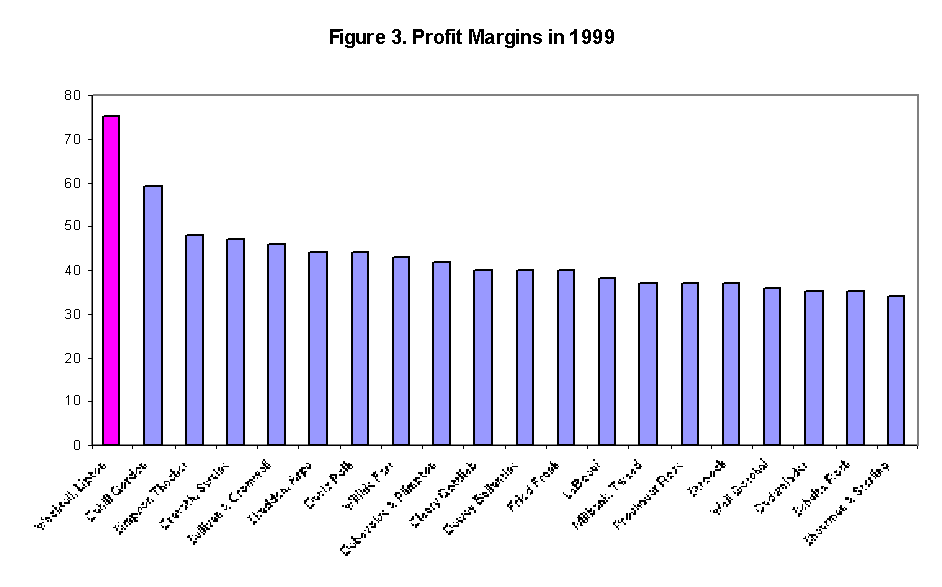 <![endif]>
Figures 4, 5 and 6 show the numbers of lawyers working in these firms, the numbers of partners, and the numbers of lawyers per partner (leverage). Wachtell has expanded about 40%, but the number of partners has increased only 10%, so there are now more associates per partner. Still, Wachtell has the lowest ratio of associates per partner among the top firms.
<![if !vml]>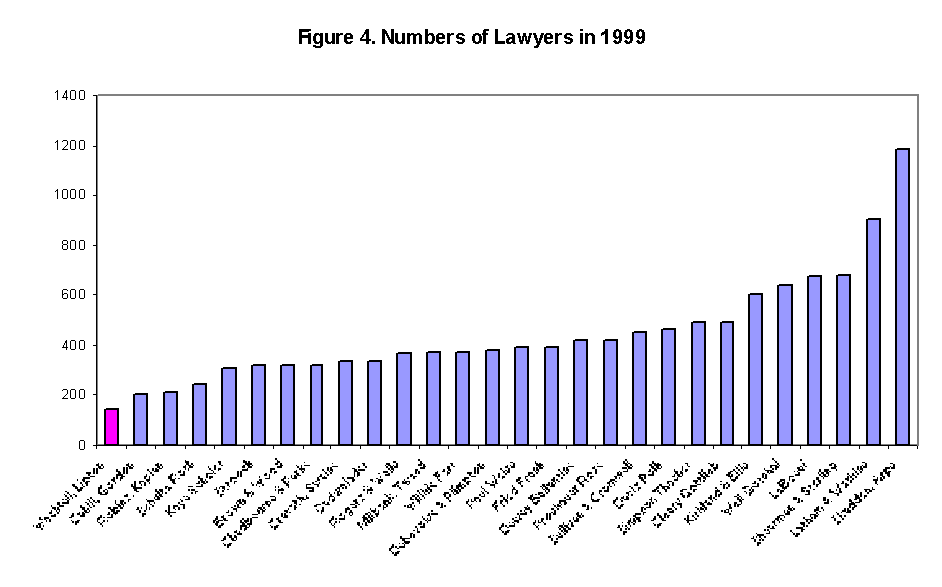 <![endif]>
<![if !vml]>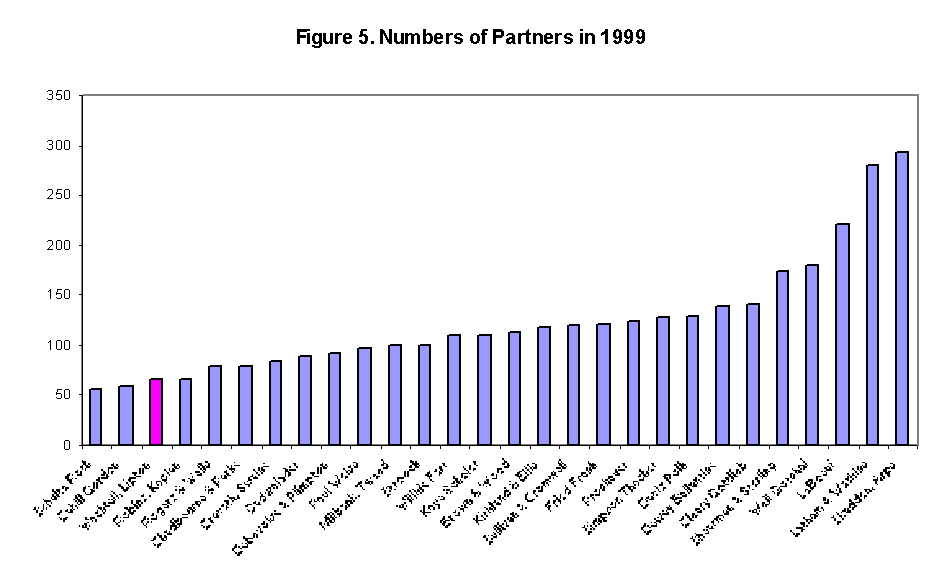 <![endif]>
<![if !vml]>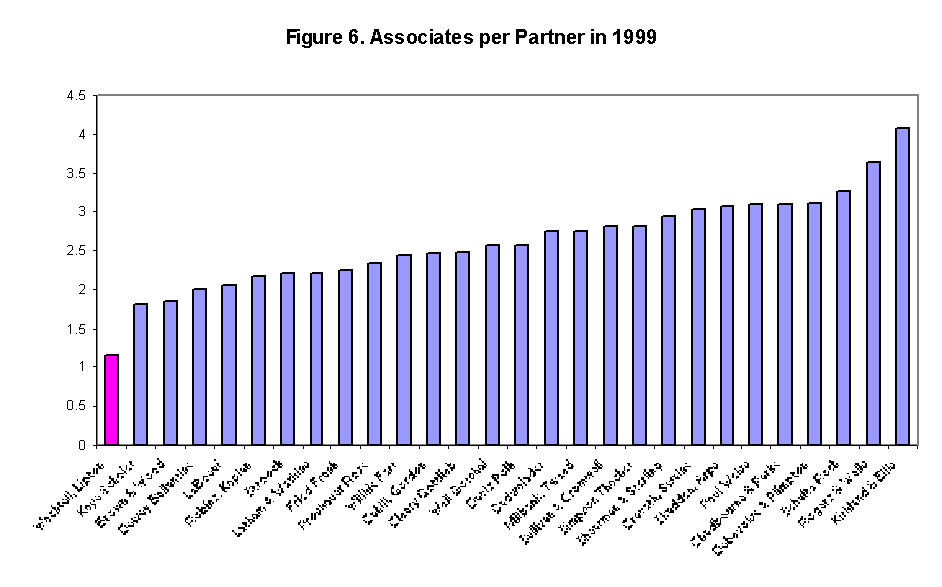 <![endif]>
Figures 1 to 6 are based on data published in the American Lawyer in July 2000.
As the three surviving founders have continued to practice law, there is no evidence about the effects of succession. But a new challenge or opportunity has surfaced – "The New Economy." As one result, in the summer of 2000, Wachtell was again considering whether to open a branch office outside New York City, this time in Silicon Valley.
Learning How to Compete from Experience
The original article did not give enough emphasis to one component of Wachtell's success: the firm's repeated ability to extract effective strategic policies from its experience. The founding partners' experiences as associate lawyers led them to formulate Wachtell's radical personnel policies. An early difficulty with a very important client, together with the need to surmount entry barriers, inspired an emphasis on transactional practice. Experience working together while the firm was still very small triggered an emphasis on teamwork. Interaction with investment bankers suggested the possibility of fees based on outcomes rather than hours worked. Observing that a large corporation had been unable to obtain legal service over a weekend led Wachtell to adopt a policy of 24-hour-7-day service. Success in circumventing established precedents taught lessons about surprise and innovation. After initial success with the Poison Pill, Wachtell created Poison Pills for many clients.
Although many, many law firms must have had experiences similar to Wachtell's, the other firms did not convert those experiences into ideas about how they might be able to innovate. Furthermore, after Wachtell innovated, the other firms were slow to imitate Wachtell's innovations and they usually made weak commitments to the innovations. One reason for this might be the loose, individualistic structures of most law firms. Managing partners often lack authority and they may not receive much respect; central coordination is usually weak and individual partners usually have much autonomy. By contrast, especially during the early years, the founding partners of Wachtell operated as a unified coalition that was small enough to formulate innovative policies and strong enough to control the other partners. Evidently, this coalition was also good at extracting valuable lessons from the firm's experience.
References
Alison Frankel (2000) "Edifice Lex" The American Lawyer, July 5, 2000