Will Comcast Get Its Trophy?
Already, Speculation Is Swirling Over Rival Bidders for the Mouse;
One Notion Is Mr. Gates at the Gate
By KEN BROWN, MARTIN PEERS and ROBIN SIDEL
Staff Reporters of THE WALL STREET JOURNAL
Comcast Corp.'s Philadelphia Flyers are riding high in first place in their National Hockey League division while Walt Disney Co.'s Mighty Ducks languish in last, a big fall for last year's Stanley Cup finalists.
The same might be said for the teams' parents. Facing an unsolicited takeover bid from Comcast, Walt Disney, once a contender, is facing a hot young team that has very quickly exposed Disney's defense as weak and its options limited.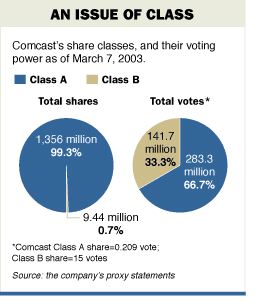 In defending itself against Comcast's $48.7 billion offer, Disney's management certainly can't boast of its own effectiveness -- the company's shares are trading right where they were six years ago and earnings have been effectively flat for a decade.
Comcast's real concern is less Disney itself than other rivals swooping in for its trophy. Among the potential entrants who could make a play for Disney are Barry Diller's InterActiveCorp., John Malone's Liberty Media Corp., Sumner Redstone's Viacom Inc., Rupert Murdoch's News Corp., and perhaps even Bill Gates's Microsoft Corp. They all have done far more media deals than Comcast CEO Brian Roberts and have strong incentives not to let Disney fall into the hands of a cable company.
Disney quickly hired Goldman Sachs Group Inc. and Bear Stearns Cos. to help it fight Comcast. It needs all the help it can get. The company has unusually weak takeover defenses, lacking even a so-called poison pill, a very common mechanism that makes it prohibitively expensive for a hostile bidder to acquire a large number of shares. In addition, Disney's entire board is elected every year, meaning they could be easily replaced, and Comcast can throw the board out in a written consent solicitation, sort of like a write-in campaign, with just a simple majority of the shares outstanding.
"They are not nearly as well defended as some of their peers," says Jim Mallea, vice president at TrueCourse, a financial-research firm that specializes in data about corporate-takeover defenses.
Disney does have a few cards to play in an effort to control its own fate, say investors. It can own up to its weak performance and dump Chairman and Chief Executive Michael Eisner, who has incurred the wrath of investors and two former board members, including Roy E. Disney.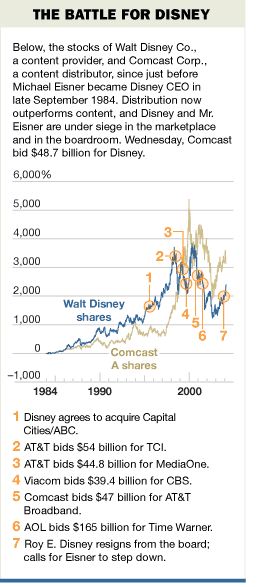 "I like Disney's assets, I just don't like Disney's management," says Ned Dewees, a portfolio manager at Douglas C. Lane and Associates, a New York money manager which owns shares of Disney. Or Disney can argue that its own corporate governance, which has been upgraded recently, is far superior to Comcast's where the Roberts family controls the company through supervoting shares.
Disney's improved corporate governance could backfire on Mr. Eisner. In one improvement, Disney hired former U.S. Sen. George Mitchell to be its presiding director. Mr. Mitchell, who has become one of Disney's public faces, has the credibility to stand up to Mr. Eisner. In addition, good governance means maximizing shareholder value, and turning down a reasonable offer would demolish Disney's good-governance credentials.
If Disney does stick with Mr. Eisner and argues that its pristine corporate-governance structure would be ruined by Comcast, it will have a tough task ahead of it.
First, many investors don't believe Disney's claims. "They are not the bastion of corporate governance, they never were," Mr. Dewees said. "So now they get a C instead of a D." Critics of Disney's governance cite high executive compensation, Mr. Eisner's entrenched leadership and a board that until recently was closely allied with management.
Second, AT&T Corp. made the same argument when Comcast was trying to get its cable assets in 2001, and investors ignored the move. "I don't think it's easy to pick on Comcast because institutional shareholders have found a way to live with it," said one person familiar with the matter.
Finally, the media industry is the land of bad corporate governance, so Comcast doesn't stand out. For example, several major companies including Liberty and Viacom have supervoting rights, giving their top executives control of the company.
In any case, Disney's initial strategy likely will be to shift the debate away from Mr. Eisner, who has become a lightning rod for criticism, and shift it to the company's recently improving performance. At its analysts' conference in Orlando, Fla., this week, it plans to stick to the original agenda as a sign that the company is stable and not cowering. Mr. Eisner Wednesday night circulated casually at a dinner with the analysts, though he wasn't talking about Comcast.
Should Disney's board succeed in moving the spotlight away from Mr. Eisner, takeover experts say it should have an easier time rebuffing Comcast by pointing out to investors that the offer is too low.
One senior media executive suggested Wednesday that Mr. Eisner could look to do a big acquisition to stave off Comcast. He could negotiate to buy a company for stock, putting a big block of stock in friendly hands. But that strategy, known in takeover circles as a "scorched earth" defense, is risky because shareholders often view such a move as a sign of entrenchment. Such an arrangement may involve Mr. Eisner agreeing to let the target company's CEO take over management of Disney while allowing Mr. Eisner to stay on as chairman of 18 months or so. That way Mr. Eisner would be able to block Comcast's bid and step down on his own terms.

While Disney's defense may be weak, other rivals could spoil Comcast's victory party. Indeed, Disney shares jumped 15% Wednesday, signaling that investors believe a better bid is coming from Comcast or someone else.
There aren't many media companies that could buy Disney, but those that could include Liberty Media, InterActiveCorp., Viacom and News Corp., as well as Time Warner Inc. or even Microsoft.
The first to bow out was News Corp.'s Mr. Murdoch, whose company just bought satellite provider DirectTV. "We certainly would not be making a run at Disney," Mr. Murdoch said in a conference call.
Investors and industry insiders also discounted bids from Mr. Redstone's Viacom, which owns the CBS television network and would have regulatory problems buying Disney, which owns ABC. A person close to Viacom also ruled out a bid, noting the only Disney asset of any interest to Viacom is ESPN.
Time Warner is just digging itself out from balance-sheet and accounting problems, and the big European media companies are all struggling with the same issues, likely eliminating them as contenders. Time Warner wouldn't comment.
The big speculation centered on a joint bid by Messrs. Malone and Diller, of Liberty and InterActiveCorp. Mr. Diller is close with Mr. Eisner and could come in as a white knight. Both executives have the heft and balance sheets to buy Disney. Mr. Diller and a Liberty spokesman both declined to comment.
A potential bid from Microsoft would be shocking. But given the company's big cash hoard and longstanding moves into content, it could make sense. But a move such as that likely would lead to some breakup of Disney, sending analysts scrambling to figure out what the pieces were really worth.
Meanwhile, Disney and Comcast both reported earnings Wednesday (see related article). Comcast returned to a fourth-quarter profit from a year-earlier loss, as revenue surged 58% on an increase in digital-cable subscribers.

The cable giant turned in consolidated net income of $383 million, or 17 cents a share, in contrast to a year-earlier net loss of $51 million, or three cents a share. Consolidated revenue soared to $4.74 billion from $3 billion.
Disney rushed out its earnings after Comcast's takeover bid, delivering a stronger-than-expected fiscal first quarter, fueled in part by strong DVD sales of hits from its movie studio including "Finding Nemo" and "Pirates of the Caribbean: Curse of the Black Pearl."
Disney forecast earnings growth of more than 30% for fiscal 2004, and Mr. Eisner said he was targeting double-digit earnings growth through at least 2007.
For the quarter ended Dec. 31, Disney reported net income of $688 million, or 33 cents a share, compared with $36 million or two cents, a year earlier. The write-off of a lease investment reduced year-earlier results by four cents a share. Revenue climbed to $8.55 billion from $7.17 billion a year earlier.
Write to Ken Brown at ken.brown@wsj.com, Martin Peers at martin.peers@wsj.com and Robin Sidel at robin.sidel@wsj.com