Winning Stock Picker's Losing Fund
Value Line Research Service
Has Beaten Market Handily,
But Its Own Fund Suffered

By JEFF D. OPDYKE and JANE J. KIM
Staff Reporters of THE WALL STREET JOURNAL
September 16, 2004; Page D1


Value Line Investment Survey is one of the top independent stock-research services, touted for its remarkable record of identifying winners. Warren Buffett and Peter Lynch, among other professional investors, laud its system.

But the company also runs a mutual fund, and in one of Wall Street's odder paradoxes, it has performed terribly. Investors following the Value Line approach to buying and selling stocks would have racked up cumulative gains of nearly 76% over the five years ended in December, according to the investment-research firm. That period includes the worst bear market in a generation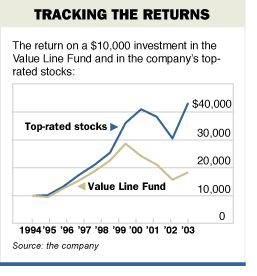 By contrast, the mutual fund -- one of the nation's oldest, having started in 1950 -- lost a cumulative 19% over the same five years. The discrepancy has a lot to do with the fact that the Value Line fund, despite its name, hasn't rigorously followed the weekly investment advice printed by its parent Value Line Publishing Inc. It also highlights the penalty investors often face when their mutual fund churns its management team and plays around with its investing style. In fact, late last night the person running the fund, Jack Dempsey, said that as of yesterday he had been reassigned and no longer had responsibility for managing the assets. Value Line couldn't be reached to comment.
Most of all, the discrepancy between the performance of the fund and the stocks it touts shows that investors don't always get what they think they're buying in a mutual fund. For even though Value Line's success is built around stocks ranked No. 1 by the company's research arm, the fund's managers have in recent years dipped into stocks rated as low as No. 3.
Ironically, even while Value Line's own fund struggles to match the Value Line Investment Survey's success, an independent fund company that licenses the Value Line name is doing much better with Value Line's investment approach.

The First Trust Value Line 100 closed-end fund, run by Lisle, Ill.,-based First Trust Portfolios, adheres far more rigorously to Value Line's investment principles, owning only the top-rated stocks.
Each Friday, First Trust managers log on to the Value Line site to download the week's list of Value Line's 100 most-timely stocks. During the next week, they sell the stocks that have fallen off the list and buy those that have been added. The result: Since its inception in June 2003, the First Trust Value Line fund's net-asset value is up 12.4%, slightly better than the 11.6% gain the Standard & Poor's 500-stock index posted in the same period.
Value Line's own fund, meanwhile, gained 3.1% in that same time. Because the fund has been such a laggard in recent years, investors have been walking away. Assets in the fund -- in the $500 million range as recently as 1999 -- are now less than $200 million, though some of that stems from market losses.
Part of the underperformance stems from previous fund managers who didn't rely entirely on Value Line's proven model, opting instead to venture into lower-rated stocks, betting that active fund managers could unearth overlooked gems that one day would shine as top-rated stocks. Thus, investors who thought they were buying into Value Line's winning investment strategy instead were buying into fund managers who thought they could outperform by second-guessing the company's research -- a tactic that didn't work well.
Because the fund wasn't performing well, the company changed managers frequently, searching for one who could post winning returns.
Value Line appeared to be moving back toward its roots in March, when it put Mr. Dempsey in charge of the fund. He isn't the traditional mutual-fund manager; he's a computer programmer who for a decade helped refine Value Line's investment models. Value Line, which uses a team-managed approach, has had at least five lead fund managers since 1998, including Mr. Dempsey, according to Morningstar.
In an interview prior to his reassignment, Mr. Dempsey said he had been restructuring the fund to follow the ranking system "in a much more stringent fashion." Today, about 95% of the stocks in the fund are rated No. 1. Mr. Dempsey said his goal was to liquidate within a week stocks that fell below Value Line's No. 1 ranking.
The Value Line survey produces independent research on Wall Street stocks. The weekly view of 1,700 stocks, which costs $538 a year online (www.valueline.com) and nearly $600 in print form, is particularly popular with do-it-yourself investors and the abundance of investment clubs in the U.S. Value Line rates stocks in a variety of ways, but is especially known for its so-called timeliness rank. Stocks ranked No. 1 are timely and expected to outperform the market; those ranked No. 5 are expected to lag.
Instead of running an actively managed fund in which a manager cherry-picks the stocks the fund owns, Value Line could operate what amounts to an index fund that simply owns the highest-ranked stocks in the survey. However, active managers believe they can improve the performance of a fund.
"As a fund manager, you want to add value," Mr. Dempsey said. Still, he acknowledged that "it's hard to beat our quantitative system." In the short time that Mr. Dempsey was in charge -- a nearly six-month period in which he transformed the portfolio -- he accumulated losses of about 2%, compared with losses of 0.2% at the S&P 500. However, he topped the First Trust fund, which is down about 2.5% in the same period. Under Mr. Dempsey, the fund accumulated significant positions in stocks such as Research In Motion Ltd. and added new positions in Yahoo Inc. and Arrow Electronics Inc., among other companies, according to Morningstar.
Value Line, based in New York, doesn't detail the inner workings of its proprietary stock-picking model. By and large, though, the strategy is built around stocks displaying price and earnings momentum and posting earnings surprises, says John James, chairman of the Oak Group, a Chicago company that runs hedge funds, some of which try to anticipate changes in Value Line's stock rankings and then invest based on which stocks will rise to No. 1 from No. 2.
However Value Line's model works, there's no question the company's research produces winning choices. Value Line's list of stocks ranked No. 1 produced cumulative gains of nearly 1,300% from Dec. 31, 1988 through June, 30, 2004, according to Value Line. The S&P 500, by comparison, posted cumulative gains of 311%.
Write to Jeff D. Opdyke at jeff.opdyke@wsj.com and Jane J. Kim at jane.kim@dowjones.com