Weekly Puzzle #6: The Downgrading of Petrobras
Making it Real
If you have been following the news stories on Petrobras, you know that the company is in a train wreck. Last week, Moody's knocked Petrobras' bond rating below investment grade.
https://www.moodys.com/research/Moodys-downgrades-Petrobras-ratings-to-Ba2-maintains-review-for-downgrade--PR_319021
While this has been viewed as big news changing the company's capacity to run its operations and finance them, we examine whether ratings agency are trend followers or trend-setters in this puzzle.
Petrobras: Financials and Market Reaction
While it is no surprise that the oil price drop in the last year has hurt Petrobras, its troubles go back further. To see the damage that the last few years have created at Petrobras, start by looking at the key financials of the company at this link:
http://www.stern.nyu.edu/~adamodar/pc/blog/PBRhistory.xlsx
Follow up by then looking at how markets have reacted to the financial meltdown of the company, by looking at the market behavior of Petrobras shares:
<![if !vml]>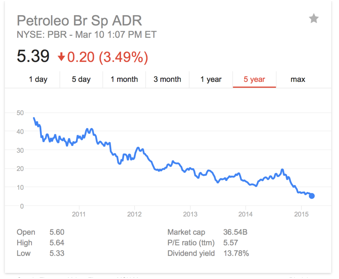 <![endif]>
On the date of the downgrade, the stock dropped another 8.3%. Petrobras bonds have also shed about 30% of their value in the last 5 years and dropped another 5% on the downgrade.
Key Questions to Answer
<![if !supportLists]>1. <![endif]>Do you think that the rating downgrade was a surprise to investors? If yes, why or what part? If not, how do you explain the market reaction to the downgrade?
<![if !supportLists]>2. <![endif]>Given the troubles that the company has faced over the last few years, why do you think ratings agencies took so long to downgrade Petrobras?
<![if !supportLists]>3. <![endif]>The article on the downgrade talks about the negative effects of falling below investment grade on the company's capacity to operate and finance itself. Do you agree with this assessment in general? Do you agree with it specifically with Petrobras
<![if !supportLists]>4. <![endif]>If you were made CEO of Petrobras, what would you need to do to improve your bond rating? Should that be your focus?
<![if !supportLists]>5. <![endif]>Brazil's sovereign CDS spread also jumped on the news. How do you explain that?