Syllabus and Outline
General Information
Office: Room 9-96
Phone: 998-0340
E-mail: adamodar@stern.nyu.edu
Home Page: www.stern.nyu.edu/~adamodar
Office Hours

Monday 9.45-10.15, 12-1
Wednesday 9.45-10.15, 12-1
The "fair game" principle applies.

All classes will be web cast. The web casts will be online within 2 hours of the class and you can access them by clicking here.
Information central
Website for class: The central location for everything related to this class is on the home page for the class on my website:
https://www.stern.nyu.edu/~adamodar/New_Home_Page/corpfin.html
The social media page for the class: Much of what is on the home page for the class will also be available at the following site (designed by Coursekit).
Google calendar for the class: The Google calendar for the class is available at
Blog: I post on finance and valuation on my blog. If you have time on your hands, check it out:
Twitter: I have twitter feed that you can be part off as well.
What is corporate finance?
Every decision that a business makes has financial implications, and any decision which affects the finances of a business is a corporate finance decision.
Defined broadly, everything that a business does fits under the rubric of corporate finance.

Course Objectives
To give you the capacity to understand the theory and apply, in real world situations, the techniques that have been developed in corporate finance.
Motto for class: If it cannot be applied, who cares?.
To give you the big picture of corporate finance so that you can understand how things fit together.
Motto for class: You can forget the details, but doní' miss the story.
To show you that corporate finance is fun.
Motto for class: Are we having fun yet?
Finance versus Accounting: Laying the Groundwork
The traditional accounting balance sheet

The financial balance sheet

First Principles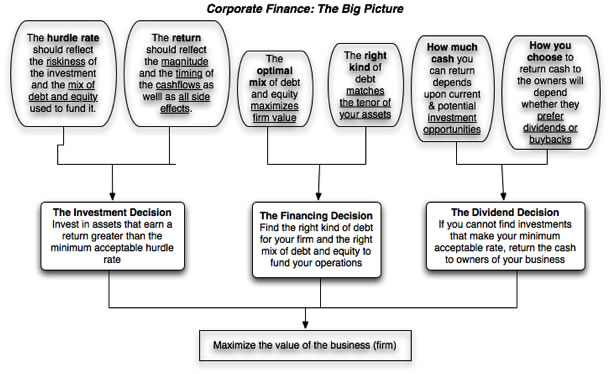 Outline for the Class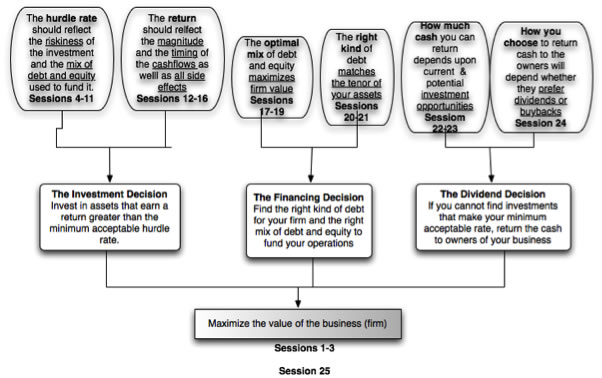 Class Material
I. Text: Lecture Notes; They are sold in the book store in two parts. The lecture notes are also available in pdf format on the web.
II. Supplementary Text: Applied Corporate Finance: A User's Manual, Third Edition, by Aswath Damodaran. See the material on my web site.
III. Practice Problems/Exams: Every midterm and final exam that I have ever given will be available on my web site. There are also problems in the supplementary book, and solutions.
IV. Spreadsheets and data are available on my web site..
Chapter References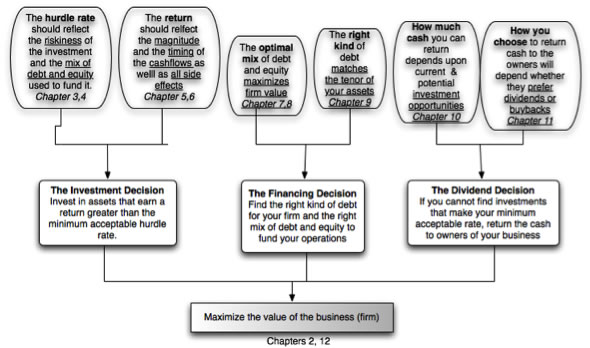 Grading Distribution
All corporate finance sections are governed by the same distribution.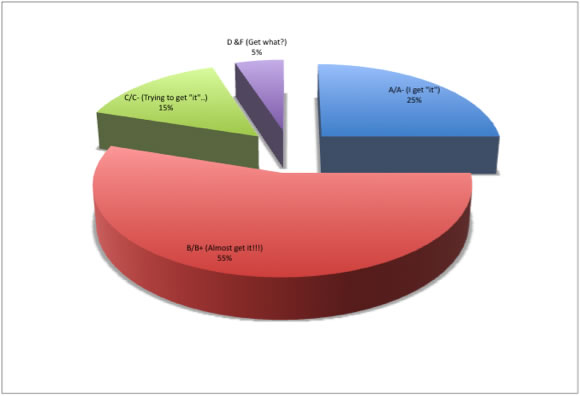 Grading Basis
Group Work: Students should work in groups of four to eight. Each group will be required to work on three cases (and turn in an analysis on each) and one comprehensive project (See attached description).
Case: Due Session 15 (March 28 ahead of class at 10.30) Worth 10%
Group Project: Due Session 26 (May 7 at 5 pm) Worth 30%
Individual Work:

Quizzes: This will be three open-book and open-notes quizzes worth 10% each.

Quiz 1: Session 10 - Covers sessions 1-9 (March 5)
Quiz 2: Session 17 - Covers sessions 10-16 (April 4)
Quiz 3: Session 23 - Covers session 17-22 (April 25)

Final Exam: This will also be an open-book and open-notes cumulative exam worth 30% ..
Rules of Engagement
Rules of group work:

Pick your own groups. (If you have trouble getting picked, I will help)
All group work will be self policed, except in extreme circumstances.
There will be one grade per group, no matter how the work load is distributed among the group members

Rules on individual work

All exams and quizzes are strictly individual work.
There will be no make-up quizzes. If you miss a quiz due to ill health, the grade will be redistributed over the remaining part of the course.

I will be the grader, and I do make mistakes. If I screw up, bring it to my attention and I will fix it.
Rules on Participation

All participation is welcome.