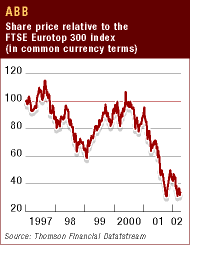 ABB launches 900 mln usd convertible bonds offering
Apr 29, 2002
ZURICH (AFX) - ABB Ltd said it is launching a convertible bond offering expected to be approximately 900 mln usd.
The conversion price is expected to be set at a premium of 25-30 pct to the volume-weighted average price of ABB's shares on the day of pricing, it said.
The proceeds will be used to refinance existing bank facilities in order to extend the term of the group's debt and to provide further flexibility in its capital structure, the company said.
ABB said the bonds will be convertible into approximately 85 mln shares, and will mature on or around 16 May 2007, bearing an expected coupon between 4.625-5.125 pct per annum, payable semi-annually.
The subscription period is to commence immediately and is expected to end by close of business today, ABB said, adding the bookrunners reserve the right to close the subscription at an earlier time.
The offering is being made to institutional investors outside the US, Canada and Japan, with the bookrunners being Credit Suisse First Boston and Schroder Salomon Smith Barney.
Final terms and conditions will be determined and announced after close to the subscription period. Unless previously converted, the bonds will be redeemed at maturity at par, it said.

---
Assignment: At the time of this case, ABB urgently needed to refiance or reduce its debt burden by raising additional capital. What were the advantages, if any, of doing so through a convertible bond rather than a conventional stock offering?