Case study
Life Time Fitness
The Cost of Capital

Prof. Ian Giddy, New York University
---

The Company
Management at Life Time Fitness, a public company based in Eden Prairie, Minnesota, wanted to know what hurdle rate should be used to evaluate future investments for expansion of the company's network of fitness centers.

As of December 31, 2005, it operated 46 centers, mainly in metropolitan residential areas.

The company's centers offered a selection of amenities and services, such as indoor swimming pools with water slides, basketball, and racquet courts; interactive and entertaining child centers; spas and dining services; and climbing walls and outdoor swimming pools.



Cost of Debt and Equity
At the end of 2005 Life Time's market capitalization was $1,670 million. Its stock had an beta of 0.95 (Reuters estimate) and the company's effective tax rate was 35%. US Treasurys were yielding 5.10% and the long-term market risk premium was about 5.5%. Life Time had recently negotiated a $300 million term loan facility at Libor + 1.25%, although the spread could be as low as 0.75% or as high as 1.75% depending on the company's leverage ratios. With the 10-year swap rate at 5.6%, Life Time's fixed-rate cost of debt was about 6.85%. The company's balance sheet showed the following assets and debt:


---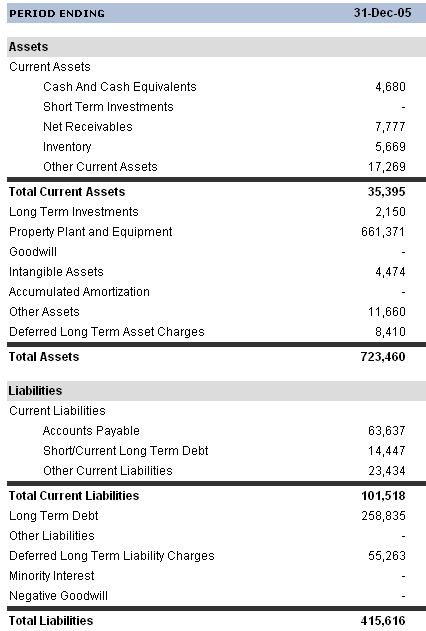 ---
In its 2005 Annual Report, the company also reported contractual obligations as follows:
The following is a summary of our contractual obligations as of December 31, 2005:
Payments due by period

Less than

More than

Total

1 year

1-3 years

3-5 years

5 years

(In thousands)

Long-term debt obligations

$

251,896

$

5,922

$

17,339

$

128,487

$

100,148

Interest (1)

104,372

13,141

22,426

19,418

49,387

Operating lease obligations

141,115

8,643

16,141

15,683

100,648

Capital lease obligations

21,385

8,525

6,416

335

6,109

Purchase obligations (2)

82,694

66,741

15,835

118

—

Total contractual obligations

$

601,462

$

102,972

$

78,157

$

164,041

$

256,292
(1)

Interest expense obligations were calculated holding interest rates constant at December 31, 2005 rates.

(2)

Purchase obligations consist primarily of our contracts with construction subcontractors for the completion of eight of our centers in 2006 and contracts for the purchase of land.
---

LIFE TIME FITNESS EBITDA
in thousands

2005

Net income

$

41,213

Interest expense, net

14,076

Provision for income taxes

26,758

Depreciation and amortization

38,346

EBITDA

$

120,393
---
Sources: reuters.com, finance.yahoo.com, Company reports.

---
Questions
Part 1. What was Life Time's weighted average cost of capital? Would this be an appropriate hurdle rate to use to evaluate expansion projects?
Part 2. What was Life Time's debt/capital ratio? Would if make sense for Life Time to borrow an additional $300 million and use the proceeds to do a share buyback? What effect would this buyback have on the company's cost of capital?

---