FT March 2002
Telia to Acquire Sonera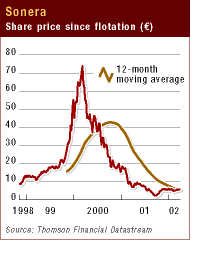 March, 2002, FT. Telia, the Swedish telecoms company, has announced a $17.6 billion merger with Sonera, its Finnish counterpart. Under the deal, Telia will offer 1.51 of its shares for each Sonera share, a premium of 15.8 per cent to Sonera's closing price. This gives Telia shareholders 64 per cent of the new company, and Sonera's 36 per cent. Adding the present value of E300m synergies promised annually from 2005 to the companies' combined market capitalization, and dividing by the increased number of shares, suggests a value of roughly SKr41 per Telia share, against yesterday's close of SKr35.4. But execution risks are high.
Those risks mean Sonera ends up with a miserly premium. But although it is back from the brink of disaster, it has nowhere else to go. Governance arrangements look promising. Yet while bringing in an outside chief executive ensures neutrality, it leaves strategic questions unanswered. What happens to Telia's loss-making international carrier business, Sonera's 3G ventures and its interests in Turkey and central Asia?
The strategic fit is not bad. Telia would acquire Sonera's market leadership in Finland, plus Sonera's interests in their joint ventures in the Baltic states and Russia.
The biggest problem may be price. There are synergies on offer - Telia could shut down its loss-making Finnish mobile venture, and crunch head office costs. But they appear rather limited. The merged entity would not gain economies of scale in mobile to compare with a Vodafone or an Orange.
The major issue facing Telia is whether it can make an offer that does not destroy value for its shareholders, but is still attractive to Sonera shareholders.
---
Assignment: What are the possible sources of the gains from the acquisition? How much of a premium over Sonera's current market price can Telia afford to pay?