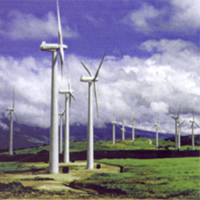 The largest wind farm in Latin America
(San José, Costa Rica) — Energía Global International Ltd. (EGI), a Bermuda-based developer of electric generation projects in Central America, announced in August, 1999 in conjunction with International Wind Corporation (IWC) of Dallas, Texas and Aerogeneración de Centro América S.A. (AEROCASA), a Costa Rican wind energy company, that it had begun commercial operation of Tierras Morenas, a 20 MW wind farm in Costa Rica.

Tierras Morenas is located in Tilarán, in the Province of Guanacaste. The facility sells its electricity to the Instituto Costarricense de Electricidad (ICE), Costa Rica's state-owned utility, under the terms of Costa Rican Law 7200. The project is situated near Lake Arenal in Costa Rica, site of one of the finest wind resources in the Western Hemisphere. Energía Global led the development and financing of the project, managed the execution of the Engineering, Procurement and Construction (EPC) contract by NEG-Micon A/S, the manufacturer of the wind turbine equipment, and manages the plant's operations.

Energía Global develops, finances, owns and operates energy generation and electric distribution facilities in Central America. In addition to Tierras Morenas, Energía Global owns majority shares in the 16 MW Don Pedro and the 18 MW Río Volcán hydroelectric projects in Costa Rica. EGI is also developing hydroelectric, biomass and thermal facilities in Guatemala, Nicaragua, and El Salvador, and owns an interest in CLESA, one of four electric distribution companies in El Salvador. EGI's major shareholder is Enel Green Power S.p.A. of Italy.

Tierras Morenas came in on-schedule, entered commercial operations smoothly, and has so far been a very successful project. Because this generation displaces electricity that would have otherwise been generated by existing thermal plants, it reduces greenhouse gas emissions from fossil fuel combustion.

The project consists of 32 NEG-Micon NM 750/44 kW wind turbines each with 44 meter rotors and 40 meter towers. The project feeds energy to the Costa Rican utility, ICE through the main switch house and an 11 mile long overhead feeder line constructed over difficult terrain. The $35 million project was financed with a combination of equity and $24.3 million of loans and grant support provided by DANIDA, a development agency of the Danish Government; CABEI, the Central American Bank for Economic Integration; and a consortium of five Costa Rican banks. The local bank consortium was led by Banco Interfin, S.A., which administers the loans for the project.

See details of the project here . For information on wind energy see the AWEA site .

---
Assignment: The Tierras Morenas project was finananced in large part with development agency loans. Why was this the case? Explain what would be necessary for such a project to be financed purely with private funds.