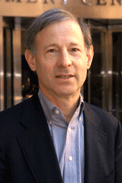 Richard M. Levich is Professor of Finance and International Business at New York University's Leonard N. Stern School of Business. Previously, he served as the Chairman of Stern's International Business Program and from 2001-18 was Deputy Chair of Stern's Department of Finance. Professor Levich is also a Research Associate with the National Bureau of Economic Research in Cambridge, Massachusetts. He was a founding editor of The Journal of International Financial Management and Accounting and served as Co-Editor from 1988-2021.

Professor Levich has been a visiting faculty member at many distinguished universities in the United States and abroad including Yale School of Management, Chicago Booth, Ecole des Hautes Etudes Commerciales (HEC) in France, the Australian Graduate School of Management (University of New South Wales), and Bayes Business School (City, University of London). Professor Levich has lectured in many executive education programs including the Wharton Executive MBA Program, Kiel (Germany) Institute for the World Economy, Swiss Finance Institute (Geneva), J.P Morgan, Chase Manhattan Bank, ABN-Amro, and Bankers Trust. He has been a consultant or visiting scholar at the Federal Reserve Board of Governors, the International Monetary Fund and the World Bank.

Professor Levich has published more than 75 articles on various topics dealing with international finance, and is the author or editor of 17 books including The International Money Market: An Assessment of Alternative Forecasting Techniques and Market Efficiency (JAI Press, 1979), Exchange Risk and Exposure: Current Developments in International Financial Management (Lexington Books, 1980), ECU: The European Currency Unit (Euromoney Publications, 1987), The ECU Market: Current Developments and Future Prospects (Lexington Books, 1987), The Capital Market Effects of International Accounting Diversity (Dow Jones-Irwin, 1990) co-authored with Frederick Choi, Ratings, Rating Agencies and the Global Financial System (Kluwer, 2002), A New Look at Currency Investing (CFA, 2012) co-authored with Momtchil Pojarliev, and The Role of Currency for Institutional Portfolios (Risk Books, 2014). His textbook, International Financial Markets: Prices and Policies, second edition, was published in 2001 by McGraw-Hill/Irwin.

In 1997, Professor Levich received a CDC Award for Excellence in Applied Portfolio Theory from the Caisse Des Dépôts Group, France.

Professor Levich received his Ph.D. from the University of Chicago.