Governing the Modern Corporation * Mergers and Acquisitions in Banking and Finance* Global Banking *High Finance in the €uro-Zone<![if !supportNestedAnchors]><![endif]>* Political Economy of Financial Integration in Europe * Streets Smarts  * Secret Money * Universal Banking
Governing the Modern Corporation
(New York: Oxford University Press, 2006, with Roy C. Smith)
<![if !vml]>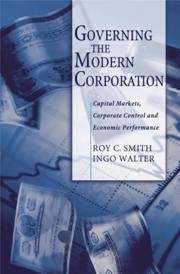 <![endif]>Nearly seventy years after the last great stock market bubble and collapse in 1929, another bubble emerged and burst in the late 1990s and early 2000s, despite a protective layer of regulation designed since the 1930s to help prevent such things – or at least contain the damage. The most recent bubble was enormous, reflecting nearly twenty years of double-digit stock market growth, and its bursting had predictably painful consequences. The search for culprits and market excesses began quickly, and many were discovered. The targets included not only a number of overreaching corporations, but also their auditors, investment bankers, lawyers and their investors. Governing the Modern Corporation analyzes the structure of market capitalism and what went wrong during one of the must turbulent times in American and indeed global finance.
The book begins by examining the developments that have made modern financial markets – now capitalized globally at about $70 trillion – so enormous, so volatile and such a source of wealth (and temptation) for all players.  They report on the evolving role and function of the business corporation, the duties of its officers and directors, and the power of chief executive officers who are inventivized to manage the company to achieve as favorable a stock price as possible. In what follows, the roles and business practices of the principal financial intermediaries, notably auditors and bankers, are examined in detail. It is found that corporations, investors and intermediaries have often been infected by deep-seated conflicts of interest, which add significant agency costs to the free-market system. The imperfect and politicized role of the regulators is also explored, with disappointing results.  The entire system is seen to have been compromised by a variety of bacteria that crept-in over the years and became virtually invisible during the bubble years. Belatedly, these issues are now being addressed, in part by new regulation, in part by prosecutions and class action lawsuits, and in part by market forces responding to sometimes mind-boggling revelations of misconduct. We suggest that all of the market's professional players – executives, investors, experts and intermediaries themselves - need to refocus on their core fiduciary obligations to the shareholders, clients, and investors whom they represent. More needs to be done to find ways for these fiduciaries to be held accountable for the appropriate and disciplined discharge of their duties.
---
Mergers and Acquisitions in Banking and Finance
What Works, What Fails and Why?
(New York: Oxford University Press, 2004)
<![if !vml]>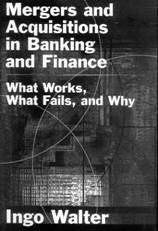 <![endif]>The financial services sector is about halfway through one of the most dramatic periods of restructuring ever undergone by a major global industry – a restructuring whose impact has carried well beyond shareholders of the firms and involved into the domain of regulation and public policy as well as global competitive performance and economic growth. Financial services are a center of gravity of economic restructuring activity. M&A transactions in the financial sector comprise a surprisingly large share of the value of merger activity worldwide -- including only deals valued in excess of $100 million, during the period 1985-2000 there were approximately 233,700 M&A transactions worldwide in all industries, for a total volume of $15.8 trillion. Of this total, there were 166,200 mergers in the financial services industry (49.7%), valued at $8.5 trillion (54%). In all of restructuring frenzy, the financial sector has probably had far more than its share of strategic transactions that have failed or performed far below potential because of mistakes in basic strategy or mistakes in post-merger integration. It has also had its share of rousing successes. The volume lay-out, in a clear and intuitive but also comprehensive way, what we know – or think we know – about mergers and acquisitions in the financial services sector. It evaluates their underlying drivers, factual evidence as to whether or not the basic economic concepts and strategic precepts are correct, and managerial dimensions in terms of the efficacy of merger implementation, notably the merger integration process. The focus is on enhancing shareholder value creation and the execution of strategies for the successful management of mergers.  It also has a strong public-policy component in this "special" industry where successes can pay dividends and failures can cause serious problems that reach well beyond the financial services industry itself.
---
Global Banking
Second Edition
(New York: Oxford University Press, 2003, with Roy C. Smith)
<![if !vml]>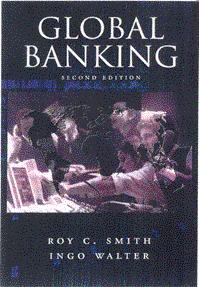 <![endif]>The coming years will present great challenges to most of the world's large financial service organizations.  The post-EMU internal European market of the early twenty-first century will require larger, more competitive enterprises able to reap significant economies of scale and economies of scope particularly in the areas of financial services as well as transportation, information technology, telecommunications, food products, consumer electronics, and pharmaceuticals.  Much restructuring in Europe has already occurred in the 1990s, but what has occurred is a small proportion of all the restructuring that European industry will require in order to adjust to its new market-oriented, more competitive economic environment.  With the institutional asset-management industry alone expected to be one of the largest and most dynamic growth segments of the world's financial services section and with cross-border volume likely to increase dramatically, global financial institutions will have to rethink their basic business strategies.  Their business environment mandates them to reformulate their own global competitive strategies, and attempt to reposition themselves to maximize their comparative advantage and to minimize their weaknesses.  Because the magnitude of internal change is so great, strategic repositioning can be very difficult to execute.  The key to succeeding in the new world financial order is adaptability.
This book is aimed at making clear the process of strategic determination in this period of enormous change, with its inescapable requirement for rethinking how individual businesses fit into the totality of global finance—rendering that process more understandable to both students and to practitioners.
Global Banking, Second Edition, attempts to wade into the chaos and confusion of today's global banking and capital market environment and strip out the central parts of it, so that each can be examined separately.  The purpose is to gain a better understanding of the evolution of international banking and finance, the services represented in today's market, the competitive process involved, and the impact these have on the prominent public policy issues of the day.
Roy C. Smith and Ingo Walter's main emphasis is on the issues of formulation, implementation, and evaluation of competitive strategies—strategies that success because they are ultimately shown to be competitive—of banks and capital market institutions.
---
High Finance in the €uro-Zone
(U.K., Financial Times/Prentice Hall, 2000, with Roy C. Smith)
<![if !vml]>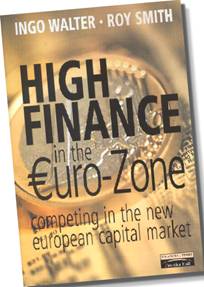 <![endif]>Great changes have occurred which have ushered in the beginning of a new economic order.  New Europe is becoming a more powerful, streamlined, market-valued version of itself—not so very unlike its American counterpart.  With the establishment of the EMU and the introduction of the euro, Europe has opened up with the creation of a proper single financial market, and the resulting level of competition between financial institutions is becoming fierce.
Virtually all European countries have had vigorous programmes of privatization underway, following Britain's lead under Thatcher.  This has greatly accelerated the formation of an efficient pan-European equity market.  Vast amounts of deregulation have ushered the powerful forces of free market into every corner of Europe.
In an environment of free-market access, companies intending to compete as financial intermediaries in this new environment go with the flow and compete with the best—often with the Americans who have had plenty of practice at home and have made remarkable progress in Europe.  To do so is the only means of survival.  The current wave of banking consolidations in Europe provides an inadequate answer for fielding truly high-performance investment banking capabilities.  So what are the alternatives, and how do they stack up against each other?  How will successful firms distinguish themselves from the failures in an industry that is sure to be dominated by a relatively few number of players?
High Finance in the €uro-Zone addresses the changes that have taken place in the European market and investigates the resulting competitive structure of the finance industry.   The book
•           discusses ongoing structural changes in investment banking and wholesale banking services
•           defines the ever-evolving economic and regulatory territory of new Europe
•           analyses changes and developments in the principal financial marketplaces, such as debt and equity capital markets, asset management and mergers and acquisitions
•           investigates the key role of privatization, its influence on financial market development and how it is continuing to influence the future of the European marketplace
•           focuses on the effects this will have on how individual firms in wholesale and investment banking must run their own business in order to success.
---
Political Economy of Financial Integration in Europe: The battle of the systems
(U.K., Manchester University Press, 1997, with Jonathan Story)
<![if !vml]>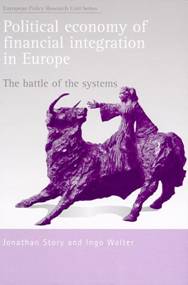 <![endif]>Few aspects of the great European experiment in economic integration that began in 1956 has been as difficult and fraught with political conflict as the creation of a single financial market. Close to a half-century after the launch of the EU, the financial sector in Europe remains surprisingly fragmented. National currencies remain, and some are likely to be around well into the next century. Bond and equity markets in Europe are far from seamless. Efforts at macroeconomic convergence have encountered one setback after another, often handing enormous windfall gains to those betting on the lack of credibility of the established course. The whole process has been extremely slow, painful, and beset with pitfalls as the common interest came up time and again against vested national interests and, quite simply, different ways of doing things. The financial market conditions that exist in what is by far the largest unified pool of capital resources in the world, the United States, still seems far off.
Yet progress has been made, often with two steps forward and one step back and often against great odds. The gains in terms of improved resource allocation, improved growth and improved social welfare are inordinately difficult to measure, but they doubtless exist. The founding fathers of the EU recognized that financial integration is an integral part of the march to economic union, and they were right. How difficult and time consuming that would be, no one could have foreseen.
In this book, we trace the political, financial and economic steps towards financial union in Europe with an focus on the political economy of the process — notably the dynamics of a Europe of sovereign states reflecting deep-seated differences in ideas about how financial institutions ought to be organized, how financial markets ought to be regulated, how companies ought to be governed and what the relationships between banks (and insurance companies) and nonfinancial firms ought to be, and how the role of the state ought to be played-out. These differences are reflective of very different and entrenched national histories, yet they must be reconciled, ultimately through convergence on a unified European financial system, or in the more immediate future through agreed processes of supervision over a confederal regime rooted in the inherited national financial systems but tied one to another through multiple channels and exchanges.
Accordingly, we consider the political diplomacy of financial integration in the first chapter of this book, followed by a discussion of the economic mechanics and political process of the kind of macroeconomic convergence that is a prerequisite to financial integration. The third chapter analyses the package of measures introduced alongside the financial area initiative—notably, social policy, monetary union and a common foreign and security policy—that the French and German leaderships conceived of as indispensable features of a completed EU. We then turn to the financial sector itself, with a discussion of optimum financial system design and its relationship to the performance of the real sector of the economy through the process of corporate governance and control. These processes have been conditioned by the different national financial-market and regulatory histories, and separate chapters are devoted to three very different approaches in Germany, France and the United Kingdom. These approaches, we argue, are locked into a battle that will ultimately determine the financial landscape in Europe, the contours of which we consider in the final two chapters.
---
Streets Smarts
(Boston: Harvard Business School Press, 1997, with Roy C. Smith.)
<![if !vml]>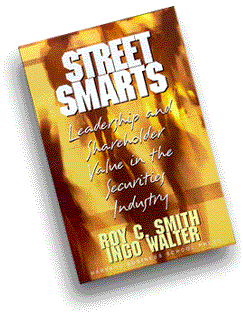 <![endif]>Those qualified as "fit and proper" to work in financial services should be equally "special." They have important fiduciary responsibilities to all sorts of stakeholders, they have an inherent obligation to use information with great discretion, and their actions can easily lead to severe damage or collapse of their own institutions which in turn can damage others as well. Yet not all of the many thousands of people who work on the Street -- and probably relatively few -- can show that they really do grasp the special responsibilities that they have.
The Street, in short, has a problem -- one that goes well beyond the regulatory and compliance framework that sets the rules for acceptable management and market conduct. The fact is that no amount of external or internal controls and audits will eliminate the possibility of actions by "not-so-special" individuals or groups (perhaps motivated by extraordinary pressure to perform) from inflicting damage which is out of all proportion to the potential gains, sometimes killing the firm itself as a viable concern. Beefing-up controls and regulations can be regarded as necessary but hardly sufficient in themselves to control all of the ill-motivated forces that inevitably penetrate the industry.
A broad range of initiatives are required that influence the conduct of people -- to make them more "special," so that self-control within an appropriate and supportive institutional culture suppresses inappropriate conduct and may, indeed, lessen the need for costly and demotivating compliance infrastructure. This is the focus of leadership, which has all too often been sorely lacking in this industry.
---
Secret Money
<![if !vml]>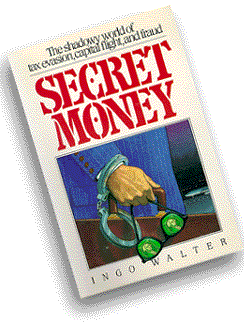 <![endif]>A vast global industry has flourished in recent years: financial secrecy. It has thrived in a darkness largely unpenetrated by either the law or the media - until now. In this groundbreaking and fascinating book, a renowned economist takes a probing look at the global secret money industry.
With sharp insight, originality, and humor, Ingo Walter uncovers the hidden machinery behind the secret money industry. He writes that the demand for hidden money varies depending on the customer's motivation - criminal, fiscal, political, business, or personal. And the cost of secrecy varies with the risk. Although international financial secrecy raises images of drug-smugglers carrying suitcases filled with money, criminal activities account for only part of the demand. In fact, the author argues, people cloak their assets for a number of reasons. Businesses try to evade creditors as well as the law. Legitimate international investors, fearful of local prejudice against foreigners, try to mask their identities. Wealthy individuals try to divert thieves, kidnappers and con-artists.
Secrecy is a thriving business, and one in which there is considerable market segmentation. Different kinds of assets have different rates, returns, and costs. In short, more secrecy costs more money. And, as in any industry, the secrecy-providers offer a hierarchy of differentiated services, and buyers shop around for the best deal.
Combining intriguing new facts with an imaginative methodology, Secret Money pulls back the curtain on a mysterious global industry.
---
Universal Banking in the United States
(New York: Oxford University Press, 1994, with Anthony Saunders)
<![if !vml]>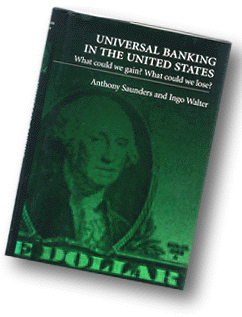 <![endif]>In 1933 and 1956, the United States sharply limited the kinds of securities activities, commercial activities, and insurance activities banks could engage in. The regulations imposed on banks back then remain in place despite profound changes in the economic environment, in the structure of the national and international financial markets, and in technology. In this span of time many industries, especially those confronting global competition, have transformed themselves dramatically in their efforts to survive and prosper. Banks, however, have largely remained stuck in an antiquated regulatory structure which places the burden of responding to market-driven structural change on the shoulders of the regulators and the courts in a constant search for loopholes in the law.
Universal Banking in the United States evaluates the case for and against eliminating the barriers that have so long existed between banking and other types of financial services in the United States. The book studies the consequences of bank regulation in the U.S. as it relates to competition in international financial markets and examines universal banking systems in other countries, especially Germany, Switzerland, and the United Kingdom, and how they work. Anthony Saunders and Ingo Walter then apply the lessons to U.S. banking, paying particular attention to the benchmarks of stability, equity, efficiency, and competitiveness against which the performance of national financial systems should be measured. In the end, the authors propose the outlines of a level playing field on which any number of forms of organization can grow in the financial services sector, in which universal banking is one of the permitted structures, and where regulation is linked to function.
A comprehensive examination of the need for reform of the U.S. banking and financial systems, Universal Banking in the United States will be of great interest to bankers, financial service executives, regulators, and academics.